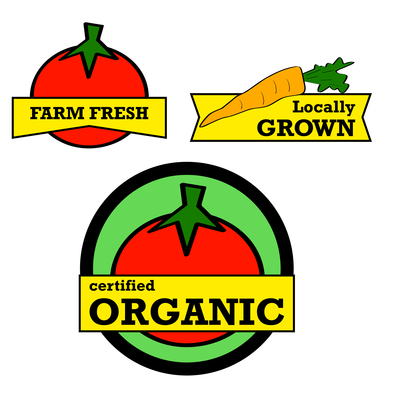 Is vegetable gardening really the cheapest and best way to get organic foods? It was my question when first looking for a way to reduce my fresh foods budget.
There are two ways of obtaining organic products: (1) buying organic food products at the grocery store or farmers market, or (2) growing organic foods in your own garden.
1.Buying organic food products at the grocery store or farmers market was only the option for my family for the past 5 years as we lived in an apartment complex, without a garden.
Despite a significant price difference between organic and non-organic foods, we made the decision to consume only organic foods. We made this decision because of the three main benefits of eating organic foods: health, financial and environmental.
According to recent research, the average family spends a minimum of $4,800 per year, or $400 a month, on fresh organic foods. You can become a "smart" shopper looking for the best deals at organic food stores and farmers markets. It is even possible to save up to 40% of your food budget buying organic foods on sale or negotiating the best price with sellers at farmers' markets.
However, looking for the best deals requires extensive time and an effort. I became a "professional" bargain hunter at the expense of quality time with my family. As a result, I began looking for a better way to reduce our fresh food budget.  So, I decided to try vegetable gardening in my own backyard.
2. Producing organic foods in your own garden is another way of getting organic foods.
One of my happiest childhood memories is visiting my grandmother's farm.  There, my sister, cousins and I helped our grandmother take care of her farm animals and vegetable garden. I have never experienced a better taste of chicken eggs, fresh milk, vegetables and fruits than those from my grandmother's farm and garden.
Last year we started our first experiment in growing organic vegetables. We planted numerous tomatoes, cucumbers, sweet peppers and dill plants. Unfortunately, we were not successful, producing only a few tomatoes and papers. Most of vegetables died. We invested around $300 in the program. I had read a few internet articles about vegetable gardening, hoping it would be enough to become successful.
Results showed that this, obviously, was not enough.
This spring, I started my search for a program that would help avoid our previous mistakes – and provide us with the necessary information to build a vegetable garden producing sufficient healthy and tasty vegetables and fruits. We did not want to waste any more money.
After completing an extensive research, I found the program Food4Wealth  that has all the necessary information needed to raise an organic garden.
The founder of the program Food4Wealth is Jonathan White. Jonathan is a Horticulturalist and Environmental Scientist with over 20 years' gardening experience.  He has dedicated his life to working out how to produce food in the easiest and most cost effective way possible. He lives on a small farm and has a garden that produces all the food his family needs annually.
Jonathan explains 'step by step' how to build an organic garden. Every part of his program contains videos showing exactly how you should do it. I am a visual person. So for me, it is much easier to comprehend how to do things watching an accompanying video than simply reading it alone  in a book.
The programs Food4Wealth made it 100% easier for me to understand the entire process. It consists of over 80 pages with a number of illustrations and 14 accompanying Video presentations.
The program Food4Wealth explains in details how to:
create a frame and put in all the layers of organic material that you will need to grow your plants
make and use compost, watering and weeding system;
plant out your Food 4 Wealth plot, since the Food 4 Wealth planting arrangement is unique ;
plant a seedlings into your Food 4 Wealth plot;
manage your Food 4 Wealth plot so that it provides food all year round, even through the winter;
grow fruit in a very small area;
 convert  your vegetable garden into a flourishing Food 4 Wealth plot;
 use the Food 4 Wealth method if people don't have a yard.
After reading and watching Food4Wealth, I have learned that it is 100% possible to have a cost effective organic garden where I can grow organic fresh foods without much digging, constantly fighting harmful insects and weeds. I can collect my own seeds and make my own compost using waste from my household. I can save a lot of money and time following the program steps.
After completing the program Food4Wealth, I have found the answer to my question: 'Is vegetable gardening really the cheapest and best way to get organic foods?'
The answer is YES!
It is the cheapest and best way to get organic foods!!!
It requires an initial investment of limited money and time to buy seeds and build your garden. The reward is a long term system producing all the fresh organic food you need on an annual basis.
If you are looking at starting your own vegetable garden, Food4Wealth is an invaluable resource. I recommend above all others.
If you have any questions, please leave them below.  I will be sure to get back to you within next 24 hours (often much quicker).
To your good health,
Tanya