Treating autism with NAET might be the only way for your child to become healthy again!  After NAET treatment you may hear your child says for the first time: "Mommy, I love you".  To some, this may sound an unrealistic, or even fake, promise.
However, NAET presents a real chance to cure autistic children!
"Autism Treatment – NAET – Overview" was published by Mike Kastenbaum.
 Autism  is a neurodevelopment disorder, with symptoms usually appearing  before the child's third birthday.
Autism symptoms vary greatly, but the most common symptoms are:
Speech and language disorder;
Repeating of phrases over and over that have been heard previously;
Overly aggressive behavior and infliction of injuries to oneself;
Repetitive suborn behavior;
Inability to interact with other children;
Repetitive body movements – including pacing, hand flicking, twisting, spinning, rocking, and/or hitting of oneself;
Insensitivity to pain and lack of responsiveness to extreme cold and heat;
Frequent unexplained crying and tantrums;
Avoidance of eye contact and resistance to holding or cuddling;
Distressed by change to normal routine.
Dr. Devi S. Nambudripad discovered that one of the major causes of Autism, Attention Deficit Disorders  ("ADD"), and Attention Deficit Hyperactivity Disorder ("ADHD") is an allergy to substances that the child breaths, eats, drinks, and/or touches, as well as immunizations.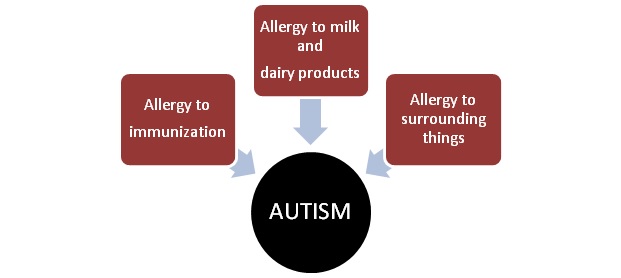 Particular milk and dairy products are the most common allergens in autism. Autistic children cannot break down the milk protein. As a result, undigested protein gets into the circulation of the brain causing irritability and abnormal behavior.  Successfully treated with NAET, the body is able to make the necessary digestive enzymes that break down the milk protein.
Many children become autistic after childhood immunization.

My daughter developed food allergies after infant immunizations.  After Measles, Mumps and Rubella ("MMR") vaccination, she was sick for 10 days.  Shortly after that, I noticed that her food allergy reactions became much worse.  Only later, the NAET doctor discovered that she was allergic to MMR vaccine.  It became the trigger for her immune system imbalance.
Because of a fear that vaccination might harm them, parents often refuse to immunize their children.  This increases tremendously the chances that the child may become seriously ill. Diseases like polio, meningitis and hepatitis can ruin a child's life forever.
 NAET treatment to vaccine allergy may improve the child's health.
My daughter was treated to a MMR vaccine allergy with NAET.  As a result, she displayed no side effects after her second MMR vaccination.
      3.  Many infants are allergic to surrounding objects such as crib materials, mattress fabrics, toys materials, bottles, diapers, formulas, foods, etc.  Allergy to mattress material, plastic accessories, and crib materials may be the causes of sudden infant death syndrome.
Dr. Nambudripad provides very valuable information in her book Say Good-Bye to Allergy-Related Autism NAET
and Say Good-Bye To ADD and ADHD
that will help the autistic child.
Autistic children treated with NAET have made outstanding progress in their speech, learning, behavior and socialization skills.  You can read about this in "Improving Communication Skills in Children With Allergy-Related Autism Using Nambudripad's Allergy Elimination Techniques: A Pilot Study" published in Integrative Medicine – Clinician's Journal in 5 Oct/Nov 2011 issue. Funded by The Teitelbaum Family Foundation and involving 60 autistic children.  The study shows the efficacy of NAET as a treatment for autism.
Dr. Jacob Teitelbaum, M.D. said that: "With the average American getting over 150 pounds of sugar each year, and there being almost 85,000 new chemicals that have been added to our environment, it has become very difficult for many people's immune systems to tell friend from foe."
Dr. Teitelbaum stated "The effects were dramatic. "After one year of NAET treatments, the children showed an average 50 to 75 percent improvement."  After completing one year, twice a week treatment, 23 out of the 30 autistic children treated with NAET were back in regular school.
Luckily, my daughter did not have an autism disorder.  However, I remember her irritated behavior after eating foods to which she was allergic.  Allergen affects children's body tremendously, preventing children from proper development.
You can read more about this in my post: "Natural Allergy Cure for Children that will Change your Family Life Forever!"
If you child has Autism, ADD and/or ADHD do not miss your chance to help her/him become healthy again!
Treating autism with NAET will change your child and family's life forever!
If your child has an allergy or sickness caused by allergy, please feel free to ask me any questions you may have.   I will be sure to get back to you within the next 24 hours, if not sooner.
To your good health,
Tanya