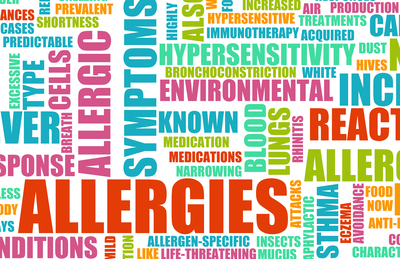 Why do people have allergies?  What actually causes people to develop allergen reaction?  New technology, new chemicals and/or products affecting our environment are often blamed for creating allergens for millions of people.  These seem like logical explanations.
However, they were note enough  for me to try and solve the mystery of why people have allergies and find a cure.
A person can be allergic to anything, including: pollens, grasses, foods, pets, drinks, drugs, herbs, vitamins, minerals, water, heat, cold, sun, smells,  bacteria, viruses, vaccinations, clothing, jewelry, chemicals, paint, plastics, his/her own digestive fluids, his/her own organs – and even other people.
Looking for a specific answer, I carried out considerable research on Western medicine explanations, how the allergens affect the body, and what options people with allergies have.
According Wikipedia an allergy  is a hypersensitivity disorder of the immune system.  Allergic reactions occur when a person's immune system reacts to normally harmless substances in the environment.  A substance that causes a reaction is called an allergen.
In short, from a Western medical perspective an allergy is simply an overreaction of the immune system.  Despite extensive researches, Western medicine still looks for answers as to what causes allergies.
We are all familiar with the definitions for immune system, allergy, allergen, and disorder. Well, neither Wikipedia nor Western medical definitions helped me truly comprehend why allergies actually develop in our body.
Not at all! It was still a mystery for me.
It only became crystal clear to me why people have allergies when I read the book "Say Good-Bye to Illness" written by the founder of Nambudripad's Allergy Elimination Techniques ('NAET'), Devi S. Nambudripad. My NAET doctor recommended the book when I first started my NAET treatments.
Despite using some new unfamiliar terms, NAET explanation of allergy is simple and easy to comprehend.
Dr. Devi S. Nambudripad defines allergy in terms of what allergen does to the energy flow in the body.
I have been practicing one of the Chinese Energy Exercise – QiQong for the last 15 years.  It translates as "energy training."  Millions of Chinese have been practicing QiQong for thousands of years.
So, the idea of balancing energy in the body was very familiar to me.  In addition, my osteopath chiropractor and a Tibetan Naturopath Doctor both referred me to body energy and acupuncture meridians, as well explaining to me their ways of curing people.
Dr. Devi S. Nambudripad states that 'allergen stops the normal energy flow through the body's electrical circuits to leading to a weaken state of health in one or more organ systems'.
Allergy is an energy imbalance between electromagnetic energy of the person and the allergen.  Oriental medicine states that Yin-Yang  imbalance causes an energy difference and disharmony.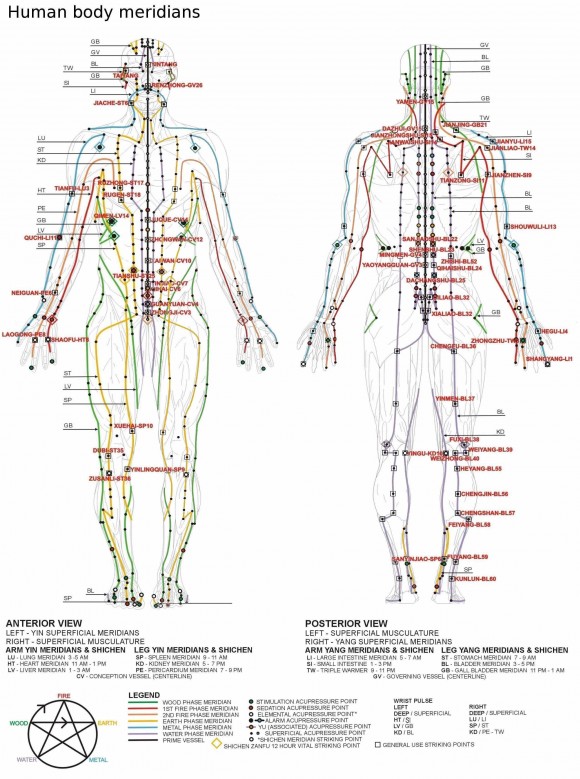 Dr. Devi S. Nambudripad explains in her book "Say Good-Bye to Illness" that there are acupuncture meridians throughout the body.  They contain non-cellular colorless liquid.  There are many electromagnetic acupuncture points along these meridians.  The acupuncture points surround the organs, blood vessels and capillaries under the skin throughout the body.
The Chinese have named these meridians by the organ names: lungs meridian, stomach meridian, heart meridian, etc.
Allergens can create the energy blockage in these meridians.
There are three levels on which allergen blocks a meridian: physical (mechanical), nutritional (chemical) and emotional (cellular).  Each body cell holds three levels of memory.
1. Physical (mechanical) blockage happens along the external pathways of the acupuncture meridians.  Chiropractor, massages, sauna, simple acupuncture treatments, and exercise can provide temporary relief from physical blockage.
This particular explanation helped me comprehend the deep meaning and importance of regular physical exercise – not just general words as to how exercise helps one to become healthy and look good.
2. Nutritional (chemical)  blockage  affects the internal pathways of acupuncture meridians.
The treatment of the symptoms of the nutritional blockage requires hundreds visits to a chiropractor and/or an acupuncture practitioner.  This helps provide some relief; but, it does not solve the problem.  Rather, NAET can remove the blockage in a short period of time.
3. Emotional (cellular ) blockage  affects the emotional aspect of acupuncture meridian.
NAET treatment removes the blockage on all levels.  Once eliminated, physical and chemical allergies do not return. However, because of a new emotional experience, emotional blockage may return, requiring new treatment. Learning this helped me fully understand the importance of controlling negative emotions and managing stresses.
Allergy always attacks the weakest part of the body.
For example, if someone has a weak stomach, allergies will affect the stomach tissues.  The victim will suffer from digestive disorders whenever he/she comes into contact with an allergen.  This was the case for me, as I have a weak stomach.  So whenever I inhaled, ate, or touched allergens, my stomach became irritated and I became sick.
If someone has a weak lung, he/she may suffer from asthma, bronchitis and/or other respiratory disorders whenever he/she comes in contact with an allergen.  I have met a lot of people who have suffered from seasonal allergies every year.  They inhale allergen from the air like pollens, grasses and flowers.  My husband used to suffer from seasonal allergies every year.  He has a weak lung.  After NAET treatments, he no longer has a constant runny nose or eyes, cough and headaches during the summer months.After elimination of most of the allergies through NAET treatments (i.e. removing energy blockages), the immune system becomes stronger and symptoms reduce dramatically.
NAET brings back a perfect energy balance to the entire body.
In my next post "Holistic allergy treatment – Does It Really Work?", I will explain how NAET works and how it can help you become 'allergy free' and cure your sickness.
NAET helped me and my family to stop suffering from everyday pain caused by allergy.
You need not suffer anymore as well. Please read my story in my post " How to Become Allergy Free – 5 Steps You Need to Know"  and choose the right path towards health restoration.
I became healthy again and I sincerely wish the same for you.
Please post any questions you may have and I will be sure to get back to you within the next 24 hours, if not sooner.
To your good health,
Tanya