I had been suffering from food allergies, bile reflux and migraine headaches for 20 years.  Out of desperation, four years ago I began using Bentonite Clay without consulting a doctor. Unwittingly, I realized the Bentonite Clay benefits that helps bile reflux sufferers. I settled on Bentonite Clay after reading hundreds of posts and on-line reviews.
As soon as I tried Yerba Prima Bentonite for the first time, I felt immediate relief from pain in my stomach, esophagus and from nausea. Bentonite Clay helped me tremendously while I was undergoing NAET treatments.
I continue using Bentonite Clay today to relieve digestive discomfort and nausea whenever I am not careful what foods I eat.
Usually Bentonite Clay is used in digestive tract detox programs.  It binds herbicides, viruses and other potentially harmful substances.  As a result, the toxins are not digested, nor absorbed, into the bloodstream.  Rather, the bounded toxins are removed from the body when the bentonite is eliminated through bowel movements.
Bentonite is a natural clay mineral of volcanic origin, created from volcanic ash deposits that are millions of years old.  Some of the largest, and the best quality, deposits of bentonite are found in the Great Plains of the United States.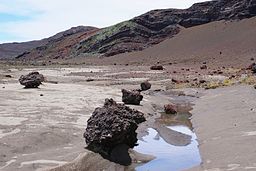 Compared to other bentonite products, "Great Plains® Bentonite Clay" has maximum purity and enhanced surface area.  Most Bentonite products are offered in powdered form that require additional time in preparing.
Great Plains® Bentonite Clay comes 'ready to use'.  You only need to shake the bottle and take a table-spoon once a day on an empty stomach.
I take Bentonite Clay any time I have excess bile in my stomach.  However one warning – you must drink lots of water in order to avoid constipation.
Before discovering Bentonite Clay, I tried to use the prescribed biding suspension Cholestyramine.  However, I incurred a lot of side effects, including stomach aches, headaches, and pain in my legs.
I do not experience any of these side effects with Bentonite Clay.
I highly recommend Yerba Prima Bentonite to any bile reflux sufferers and those who would like to use it in Detox programs.
Price:  Check Price
Average Customer Rank: 4/5
Summary:
Specs:
It has maximum purity and enhanced surface area.
It comes 'ready to use'
It has no taste
Benefits:
It provides immediate relief from pain in the stomach and esophagus and from nausea caused by excess bile in a stomach
It binds herbicides, viruses and other potentially harmful substances
It has no side effects
Warnings: Keep out of reach of children. As with all dietary supplements, consult your healthcare professional before use. See product label for more information.